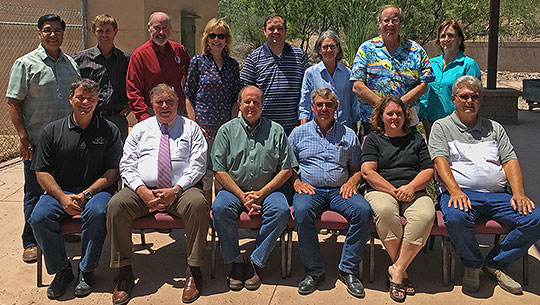 Seated, left to right – Richard Polheber, President of Benson Hospital; Lyndon Denton, ANPI Business Development & Public Relations Manager; Dave DiPeso, Owner & Appraiser of Coldwell Banker The DiPeso Group; Julie Brooks, ANPI Executive Assistant; George Scott, Director of Southeast Arizona Economic Development Group;
Standing, left to right – Lupe Diaz, Pastor of Grace Chapel Benson & President of the Benson Chamber of Commerce; Jeremy Barrett, ANPI President & General Manager; Norm Sturm, Jr., Cochise County Emergency Services Coordinator; Susan Pollock, retired as St. David Schools Counselor; Mark Goodman, Superintendent of St. David Schools; Bob Nilson, Director of Tourism, City of Benson; Carmen Miller, Neighbor, Rancher, and Owner of Arbor Solutions, LLC/The Tree Doctor.
Members not shown are Sue Kartchner, St. David Community Supporter, Director of the St. David Heritage & Cultural Arts Society; Jim Mellentine, retired as owner of Harrington/Jade Trucking, and Wayne Merrill, retired as St. David Postmaster.
Community progress, from within the community.
As an active, involved citizen of Cochise County and southeastern Arizona since 1920, Apache Nitrogen Products, Inc., has always been committed to helping the people and organizations in our area. Apache's efforts support schools, charities, civic partnerships and many other groups.
The Apache Community Advisory Council (ACAC) is a great example of our commitment. The ACAC is a panel of local advisors and influencers who meet with us regularly to discuss regional issues and public strategies, including Apache's charitable contributions. The Council members include:
Bob Nilson

, Director, City of Benson Visitor Center

Carmen Miller

, Long-Term Neighbor & Local Rancher

David DiPeso

, Benson Realtor & Broker

George Scott

, Director of SE Arizona Economic Development Group

Jim Mellentine

, Former Apache Employee, Harrington & Jade Trucking

Lupe Diaz

, Pastor & Benson Chamber of Commerce President

Mark Goodman

, St. David Schools Superintendent

Norm Sturm

, Jr., Emergency Services Coordinator, Cochise County LEPC

Richard Polheber

, CEO, Benson Hospital

Sue Kartchner

, St. David Heritage & Cultural Arts Society

Susan Pollock

, Retired St. David High School Counselor

Wayne Merrill

, Retired St. David Postmaster
By encouraging the involvement of the people who live and work alongside us, we can collectively enhance the quality of our communities now and into the future.